Celebrity chefs join hands to feed firefighters and evacuees in California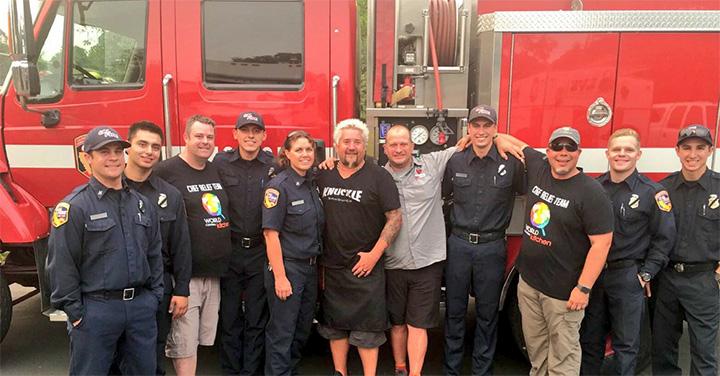 The Kincade Fire wreaked havoc in California, scorching acres and acres of land and displacing thousands of people.Thanks to the unrelenting efforts of the brave firefighters, the wildfire may soon be contained. During the most difficult times, a group of celebrity chefs came together to feed the huge numbers of displaced evacuees and the firefighters.
Chef Guy Fieri joined forces with Tyler Florence, Traci Des Jardins and José Andrés of the non-profit World Central Kitchen. They, along with hundreds of other volunteers, have been feeding about 6,000 people a day.
This is not the first time the group has volunteered in the event of a Northern California wildfire. In 2018, the group rallied about 100 chefs and 800 volunteers to cook and serve Thanksgiving dinner for victims and first responders in the Camp Fire.
In 2017, Fieri himself, who lived in Santa Rosa, was forced to evacuate when the Tubbs Fire destroyed the Coffey Park neighborhood in Santa Rosa. Yet, he still volunteered, serving thousands of meals per day.
Read more here: https://www.sunnyskyz.com/good-news/3534/Celebrity-Chefs-Have-Teamed-Up-To-Feed-California-Firefighters-And-Evacuees