As Ganesh Chaturthi gets over, these Mumbai volunteers are cleaning up beaches by collecting broken Ganesh idols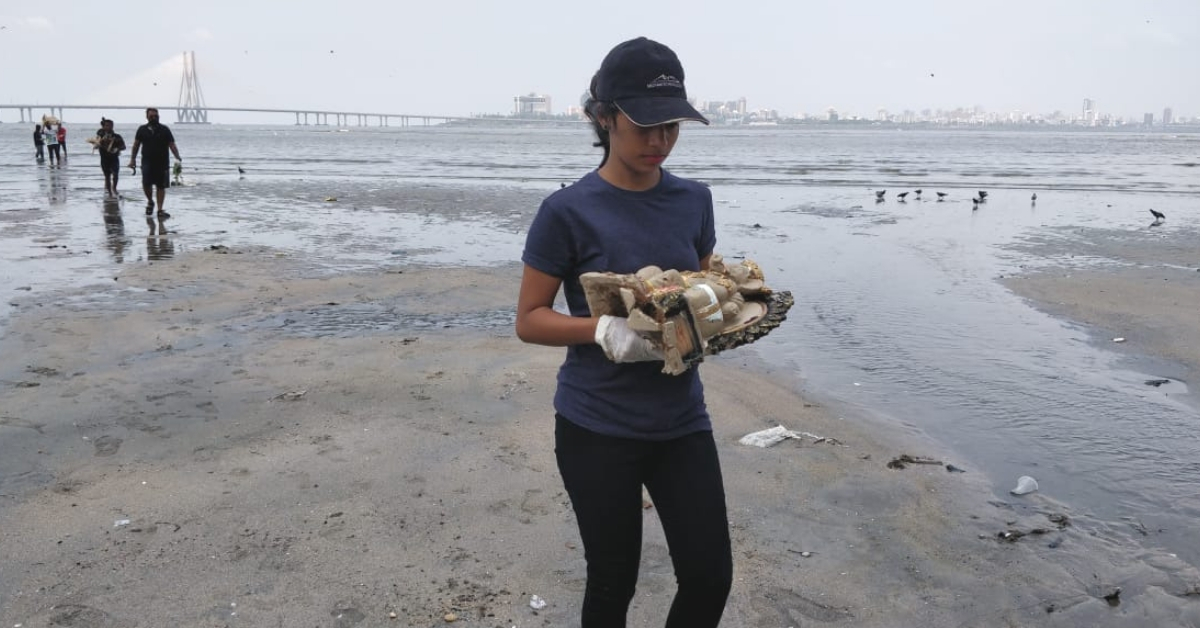 Ganesh Chaturthi is a ten-day long Hindu festival which celebrates the birth of Lord Ganesh. The festival begins with people welcoming Ganesh idols into their homes and ends with the idols getting immersed in a nearby water body. As the festival is celebrated with great enthusiasm especially in Mumbai, innumerable idols end up getting immersed in the sea.
Although several people have shifted to using idols made of eco-friendly materials and paints, many still use the ones that are made of conventional Plaster of Paris materials and chemical paints, which may take anywhere between several months to years to fully dissolve and are terrible for marine life too.
This is why volunteers like Chinu Jeet Kwatra, the founder of Aarna Fundation, a Mumbai-based NGO, are working to ensure that this year is different.
When the 10-day long festivities got over this year, Chinu was especially troubled to see pieces of Ganesh idols lying on the beach. Unwilling to let it go, he decided to enlist his fellow Mumbaikars to join him in picking the broken, tattered pieces of the idols, and clean up their beaches.
Chinu says, "We used social media aggressively to connect with students. Since I am a social activist and involved in a various project, I had a bunch of students who introduced me to a bunch of new students. Whatsapp, FB, Instagram was used to show the work and engage more people for the same." He also mentioned that the AIESEC organisation helped them gather 1000+ volunteers in a short time!
Read more here: https://www.thebetterindia.com/159699/mumbai-volunteers-show-true-devotion-collect-broken-ganesh-idols-from-beaches/