Woman chases down a thief, then takes him out for coffee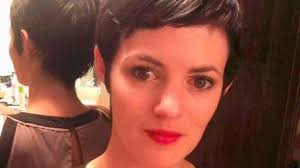 Tess Aboughoushe was coming back from a chiropractor appointment when she heard a woman scream: 'Stop. Thief. He took my wallet.' Being a long-distance runner herself, Aboughoushe wasted no time and took after the man.
After chasing him for two blocks, the Canadian woman found him hiding behind a dumpster. Aboughoushe said she approached the man cautiously, fearing he may have a knife. But instead of attacking her, the man began to cry.
Aboughoushe took the wallet and gave it back to the woman, who caught up with the pair in the alleyway. She then took the distressed man to a cafe and bought him a large black coffee. The purse thief told Aboughoushe he had been visiting the city with his friends from Calgary, but they left him stranded without any money. He told her he was trying to get back home.
Though Aboughoushe knows she puts herself in a risky situation, she has no regrets. "You kill more flies with honey than you do with vinegar," she said. "I wanted to show him some compassion."
Read full story here: http://www.foxnews.com/food-drink/2018/02/21/woman-catches-mugger-takes-him-for-coffee.html